with Dick Wells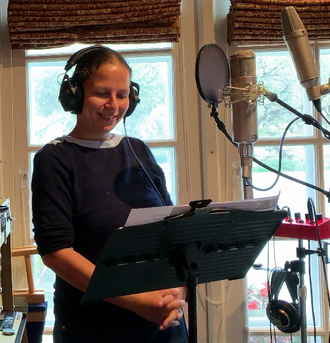 Dick and John met through Stonebridge Community Church, where Dick was the Worship Leader for many years, and John played guitar in the band.  They became fast friends and began writing songs together.
"The Mighty Have Fallen" 
One day, Dick showed up with a wonderful story he had written called "How the Mighty Have Fallen" but he didn't have music for it yet.  John was so inspired by it that the music came very quickly. Written with soaring shots of the green hills of Europe in mind during Medieval  times as a tyrannical  King and his army are defeated in a bloody battle. The King comes home to find  there is nothing left... Originally written on guitar in a low key, the challenge was converting it to work on the piano and raising it 6 steps higher  for a woman's voice.  "Once I heard Amanda sing it, I knew we were set!"   
John and Dick have written many songs together.  Besides the two on this page, they also wrote "One Kind Act" which is featured on the Lee Krabbe page.  We hope to have several more of their collaborations recorded and posted soon!
"Can't Stay Here"
Dick & John had a lot fun writing this one!  A country pop song that outlines the story of a guy and girl that end up as the last people left in a bar when closing time comes.  Dick sang on the recording, which was co-produced by Joe DiBlasi, and is available on Dick's new album "Well Runs Dry".